The Felice Brothers have released "To-Do List," the fourth single from their upcoming album From Dreams To Dust, out September 17!  The song was featured today at The Bluegrass Situation.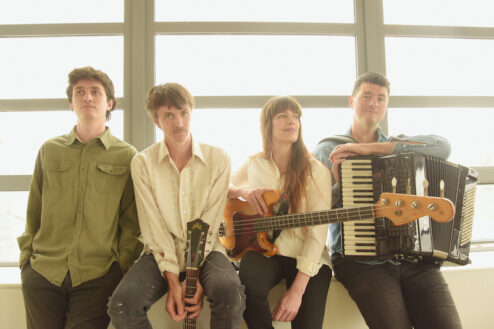 The take we chose for this song was the first time we had ever played the song. It had a very loose and playful quality that we liked. We had just learned the chord progression 5 minutes before playing it. We listened back to more takes but this was the one that had the best feeling. 

The song was originally a slow waltz with the lyrics: Into the fire that burns them/that's how the idiots run but I didn't know where to go from there. I had written down a to-do list on the adjacent page and began to sing it and it seemed to work well with the phrasing. I wrote down many pages of ridiculous things and chopped them up into the melody. This is how the song came into being.  – Ian Felice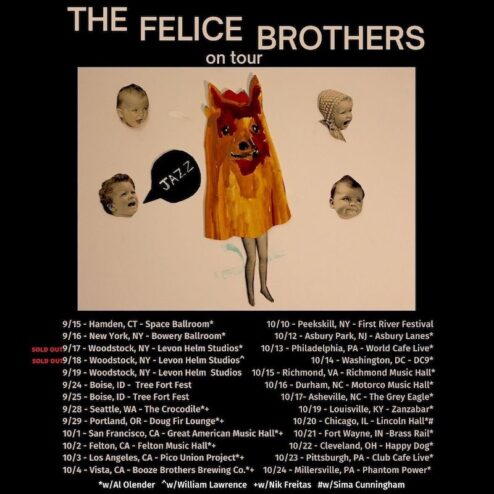 The Felice Brothers On Tour!
2021
September 15 – Space Ballroom – Hamden, CT
September 16 – Bowery Ballroom – New York, NY
September 17 – Levon Helm Studios – Woodstock, NY
September 18 – Levon Helm Studios – Woodstock, NY
September 19 – Levon Helm Studios – Woodstock, NY
September 22 – Tree Fort Music Festival – Boise, ID
September 25 – 1201 W Grove St – Boise, ID
September 28 – The Crocodile Second Stage – Seattle, WA
October 1 – Great American Music Hall – San Francisco, CA
October 3 – Pico Union Project – Los Angeles, CA
October 9 – First River Festival 2021 – Peekskill, NY
October 12 – Asbury Lanes – Asbury Park, NJ
October 13 – World Cafe Live – Philadelphia, PA
October 15 – Capital Ale House Downtown – Richmond, VA
October 19 – Zanzabar – Louisville, KY
2022
15 June – TivoliVredenBurg (Cloud Nine) – Utrecht, NL
18 June – The Boileroom – Guildford, UK
19 June – The Railway Inn – Winchester, UK
21 June – Junction 2 – Cambridge, UK
22 June – Clwb Ifor Bach – Cardiff, UK
23 June – Pocklington Arts Centre – Pocklington, UK
24 June – Newcastle University Students' Union – Newcastle upon Tyne – UK
25 June – The Botanic House – Inverness, UK
27 June – St. Luke's – Glasgow, UK
28 June – Brudenell Social Club – Leeds, UK
29 June – Rescue Rooms – Nottingham, UK
01 July – Gorilla – Manchester, UK
02 July – Islington Assembly Hall – London, UK
04 July – Hare & Hound – Birmingham, UK
05 July – The Fleece – Bristol, UK
06 July – Leaf – Liverpool, UK
08 July – Limelight 2 – Belfast, UK
09 July – Whelan's – Dublin, Ireland
Tags:
From Dreams To Dust
,
New Release
,
The Felice Brothers