Today, The No Ones—Peter Buck, Scott McCaughey, Arne Kjelsrud Mathisen, and Frode Strømstad—share "Phil Ochs Is Dead," the latest track from their new album, My Best Evil Friend, out March 31 on Yep Roc Records. The track includes The Bangles' Debbi Peterson on backing vocals.
Of "Phil Ochs is Dead," Scott McCaughey says, "Well, yes, I guess, but never too far gone…he lives on.  Peter dove into his folk-rock closet, resplendent with a pea coat and fisherman cap.  I've always wanted to pay tribute to Phil — his heart, his music, his wicked mind, his fucked-uppedness, everything.  It brought out the chamber-pop side of us too.  Debbi sang beautifully with the rest of us.  If only the story had a better ending!" 
Their first full-length collection since 2020, My Best Evil Friend pays tribute to the artists that inspire them and populate their turntables; My Best Evil Friend channels Nick Lowe, Pamela Polland, Marvin Gaye, Jenny Lewis, Jesse Ed Davis & The Mysterians, Plastic Ono Band, and Phil Ochs, among others.
With a lineup that stretches from Norway through Athens, Georgia, to the Northwest corner of the U.S., The No Ones are comprised of Scott McCaughey (lead and backing vocals, bass, keyboards, guitars), Peter Buck (12-string, guitars, electric sitar, bass), Arne Kjelsrud Mathisen (drums, percussion, keyboards, backing vocals), and Frode Strømstad (lead and backing vocals, guitars).
For the album, the group enlisted backing vocals contributions from friends Debbi Peterson (The Bangles), Ben Gibbard (Death Cab For Cutie), Norman Blake (Teenage Fanclub), and Victor Krummenacher (Camper Van Beethoven) on bass, and strings from Marin Stallemo Bakke.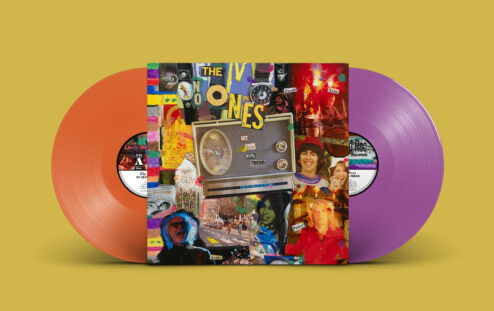 My Best Evil Friend was recorded by Bård Ingebrigtsen at Amper Tone Studios in Oslo, Norway, Scott McCaughey at Dungeon of Horror in Portland, OR, Arne Kjelsrud Mathisen at Nygrenda Kev & Dur in Grimstad, Norway, and Erik Bekkeheien in Egersund, Norway.
Previously released singles include "Song For George," a reflective, mid-tempo tune that pays homage to George Harrison and features Ben Gibbard (backing vocals) and Peter Buck on electric sitar, and "All the Stupid Days," which sees the band rueing the days of bad decisions in music and life through clever and descriptive lyricism, topped with psychedelic flourishes.
My Best Evil Friend CD/Digital Tracklisting:
KLIV

304 Molino Way 

Phil Ochs Is Dead

Song for George 

Blue Cheer Captain

Cameo Parkway

One Night at the Fillmore

Throwdown in Whispertown

Time Sent Lewis

Band with No Head

We Are Your Band 

The After Party 
My Best Evil Friend First Edition 2-LP Tracklisting:
KLIV

Set List 

304 Molino Way 

Blue Cheer Captain

Phil Ochs Is Dead

One Night at the Fillmore

Throwdown in Whispertown

Time Sent Lewis

Cameo Parkway

J.E.D.

Song for George 

All the Stupid Days

Band with No Head

Solo in the End

Kick Out the Dwarf

Slow Down

We Are Your Band

The After Party
Tags:
My Best Evil Friend
,
new music
,
The No Ones