The No Ones—Peter Buck, Arne Kjelsrud Mathisen, Scott McCaughey, and Frode Strømstad—unveil "304 Molino Way," the new single from My Best Evil Friend, out March 31 on Yep Roc Records. Available in all formats, the First Edition double-LP features six exclusive tracks.
Of "304 Molino Way," Scott McCaughey says, "The song is a dream-like memory of a lost friend (see Minus 5's "Weymer Never Dies"), and the first artist to make us feel like more than just fans. Pamela Polland has had a wild and remarkable life — Ry Cooder, Jackson Browne, Gentle Soul, Mad Dogs & Englishmen, Melba Rounds to blessed days still singing in Hawaii. And, most importantly to me, her self-titled 1973 LP, which still resonates with me."
Their first full-length collection since 2020, My Best Evil Friend pays tribute to the artists that inspire them and populate their turntables; My Best Evil Friend channels Nick Lowe, Marvin Gaye, Jenny Lewis, Jesse Ed Davis, ? & The Mysterians, Plastic Ono Band, and Phil Ochs, among others.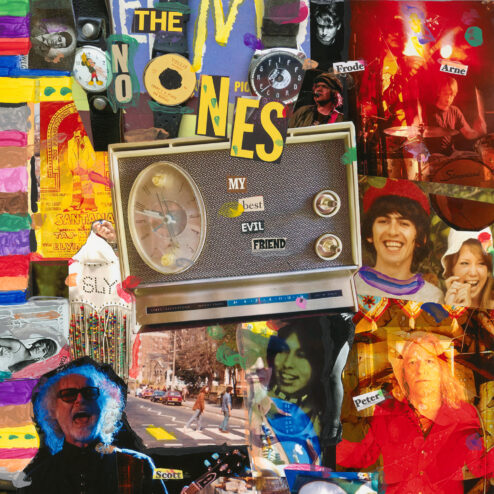 The No Ones will play their first U. S. shows in Portland, OR (June 16) and Seattle, WA (June 17, followed by dates in Norway and the UK. A complete list of dates is below. 
With a lineup that stretches from Norway through Athens, Georgia, to the Northwest corner of the U.S., The No Ones are comprised of Scott McCaughey (lead and backing vocals, bass, keyboards, guitars), Peter Buck (12-string, guitars, electric sitar, bass), Arne Kjelsrud Mathisen (drums, percussion, keyboards, backing vocals), and Frode Strømstad (lead and backing vocals, guitars).
For the album, the group enlisted backing vocals contributions from friends Debbi Peterson (The Bangles), Ben Gibbard (Death Cab For Cutie), Norman Blake (Teenage Fanclub), and Victor Krummenacher (Camper Van Beethoven) on bass, and strings from Marin Stallemo Bakke.
The No Ones On Tour
June 16 – Mississippi Studios  – Portland, OR*^
June 17 – Tractor Tavern – Seattle, WA*^
June 29-July 1 – Visefestival – Egersund, NO
July 2 – Last Train  – Oslo, NO^ 
July 4 – Clwb Ifor Bach – Cardiff, UK*
July 5 – Three Horseshoes – Knockholt, UK*
July 6 – The Garage – London, UK* 
July 7 – Brudenell Social Club – Leeds, UK* 
July 8 – Deaf Institute – Manchester, UK*
*with The Minus 5
^with Elf Power