California-based supergroup, The Third Mind, will release their 2nd album, The Third Mind 2, on October 27 via Yep Roc Records. 
Featuring an all-star eclectic ensemble of like-minded musicians–Jesse Sykes (acoustic guitar, vocals); Dave Alvin (electric guitar); Victor Krummenacher (bass guitar/harmonium/mellotron); David Immerglück (guitar); and Michael Jerome (drums/percussion)– The Third Mind 2 reflects the band members varied musical histories with a "no safety parachute" recording approach using free-form studio techniques, no rehearsals, no preconceived arrangements, and recording spontaneous group improvisations live in studio.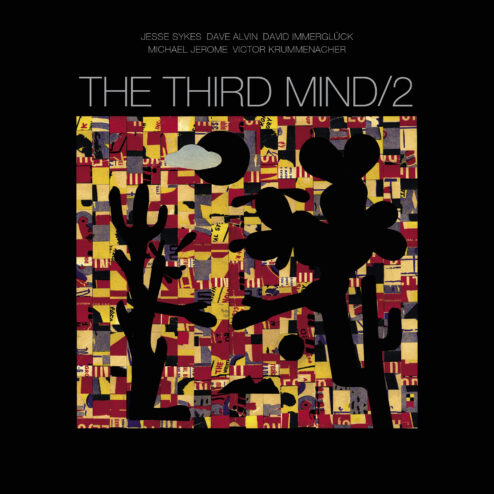 The six-song set, which runs the length of three LP sides, showcases songs written in the 1960s including, "Groovin' is Easy," "Why Not Your Baby," "Sally Go Round The Roses," among others, and an original composition, "Tall Grass," written by Jesse Sykes and Dave Alvin for the album. Available for pre-order on CD, Digital and LP formats, the fourth LP side features The Third Mind Mandala etching by Tony Fitzpatrick. 
Today, the band shared the official video for "Tall Grass," the first single from forthcoming album.  Of the song, Jesse Sykes offers, "'Tall Grass' sets out to celebrate the spirit or psyche of place, where the external and internal worlds meet. It's a midnight serenade, a love song and a bit of a eulogy to the land itself."
Produced by The Third Mind, the album was recorded by Will Golden at Sir Tiger Studio in Los Angeles, CA, mixed by Craig Parker Adams at Winslow Court Studios in Los Angeles, and mastered by David Glasser at Airshow Mastering.
The group's 2020 self-titled debut garnered critical praise including American Songwriter who noted it "exceeded anyone's expectations," Glide Magazine hailed it as a "mind-blowing experience," and PopMatters exclaimed "expansive, adventurous music."
The Third Mind 2 Tracklisting:
Side A
1. Groovin' Is Easy
2. Why Not Your Baby
Side B
3. In My Own Dream
4. Tall Grass
Side C
5. Sally Go Round The Roses
6. A Little Bit Of Rain
Side D 
Features The Third Mind Mandala etching by Tony Fitzpatrick
Tags:
Dave Alvin
,
new music
,
supergroup
,
The Third Mind
,
vinyl record