Traveling Alone is the fifth studio album from North Carolina based singer-songwriter, Tift Merritt. This collection of original songs showcases Merritt's songwriting skills and storytelling through her graceful melodies and lyricism, warm twang, and atmospheric elements heard throughout the record. Recorded in Brooklyn and produced by Tucker Martine, the studio album features Marc Ribot on guitar, John Convertino on percussion, Eric Heywood on pedal steel, and Jay Brown on bass.
For the 10th anniversary of Traveling Alone, Yep Roc is releasing the album on limited edition cloudy sage color double vinyl! Pre-order your copy here.
"That Traveling Alone is now ten years old seems proof that life is not linear narrative.  Decades vanish into air over drinks, but remain in arm's reach inside a pocket, like a lucky rock or found totem you touch when needed," says Tift.
"I emptied my bank account to make this record.  When you put your courage to the test, you don't really know if you are being brave or really stupid," Tift continues, "I was digging my feet into standing on my own when the world around me suggested that was ill-advised.  That is a perennial feeling for me; my instincts always ferry off road.  I have been alive long enough to resist them, drift, try the alternatives — none of it feels right.  Traveling Alone was the very simple promise I wrote myself to be true anew each day, in uncertainty, even when it doesn't make sense.  A reminder.  And honestly, not much was making sense.  My marriage was falling apart, my father was having a health scare, my career was mostly van life spent wondering how to make something more satisfying possible. Deep under the surface, I was downright terrified that whatever was coming next would mean the end of possibilities for what had always been my most beloved refuge — music.  If Traveling Alone were my last stand, it has the watermark of my whole heart at that time on it.
A million miles ago and yesterday, Traveling Alone was made live off the floor in seven days with a truly incredible group of musicians and friends.  Thank you to Marc Ribot (and Mary Ho and Mr. Pants), Eric Heywood, Jay Brown, John Convertino, Tucker Martine, Ryan Freeland, Tony Sherr, Robb Burger, Rob Moose and yMusic, and of course to the wonderful Andy Taub and Don Piper for our hideaway at Brooklyn Recording.  Much love and thanks to that family.  I hear you in my headphones loud as all get out even now."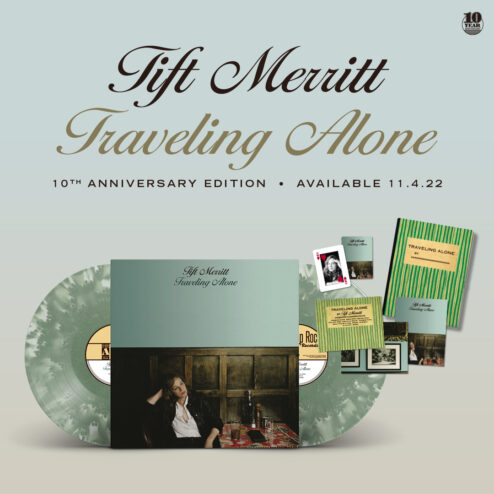 Exclusive to the Y-Store: the Traveling Alone (10th Anniversary Limited Edition) bundle which includes 1 set of Traveling Alone Playing Cards featuring Tift as the Queen of Hearts, 1 set of Traveling Alone Postcards, each featuring a unique design inspired by the album artwork (set of 3), and a Bound Traveling Alone Journal. Bundle with your pre-order here.
Tags:
New Release
,
Tift Merritt
,
Traveling Alone
,
Vinyl Reissue