USA Today premiered Aoife O'Donovan's song "Fire Engine," from her June 11 solo debut Fossils, today on its site. From the article:
For the past 10 years, O'Donovan has fronted the acclaimed modern string band Crooked Still. She was the guest vocalist on Yo Yo Ma's Grammy-winning Goat Rodeo Sessions and has also recorded with jazz trumpeter Dave Douglas.
Fossils, produce by My Morning Jacket producer Tucker Martine, begins with her song Lay My Burden Down, previously recorded by Alison Krauss. The rest of the album is as stylistically broad — and of as high a quality — as O'Donovan's resumé suggests.
Fire Engine, premiering here at USA TODAY, lopes along as a country-rock shuffle. "I love Rob Burger's piano playing on this one," O'Donovan tells us.
We think you will, too.
"I wrote Fire Engine last summer after fussing around with the first verse for over a year," she says, adding that "this song goes well with an ice cold gin and tonic."
Stream "Fire Engine" and read the full article now at USA Today, or stream the song in the player below.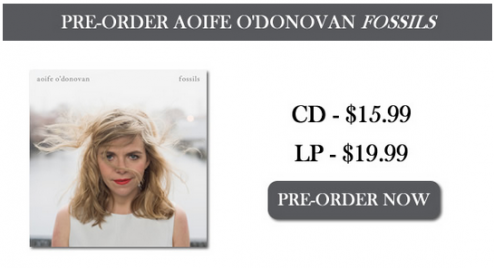 Also keep an eye out for the Sunday New York Times, for a special Snapshot section Q&A. Here's an excerpt:
Q. You have an odd touring schedule this summer.
A. (Laughs) I'm going to play the Grand Ole Opry, Mountain Stage, Tanglewood with Goat Rodeo, the Ottawa Jazz Festival, I'm hopping on Garrison Keillor's tour for a bit and I'm doing Bonnaroo.
Have you played Bonnaroo before?
In 2008. I was in a little trio with two other women [Sometymes Why], and we got a slot in one of the middle tents, and we were a super quiet band — ukuleles and three-part harmony and one microphone. We played next to Death Cab for Cutie, and it was a really interesting sonic experience. I'm looking forward to getting up there with a full sound system and my own band.
You sound excited about that.
When I thought about becoming a musician, the idea of being a solo artist always seemed really lonely to me. It still is in a lot of ways, because even though I'm going to have a band on this tour, it's still just my name on the marquee.
What drew you to the Gowanus scene?
I like people getting together and playing fiddles and banjos in a communal way. It's different than the songwriter scene that I was part of in Boston, which is centered around people getting together and sharing songs. New York offers the chance to meld the two. In my neighborhood, there's Lowlands, which is the kind of bar where they literally have keys to my house. Friends own the place, you can go and drink a water and work on your computer, or you can go at 3 in the morning and have a whiskey. Amazing people stop in to play: Punch Brothers, Tim O'Brien, Dirk Powell, Kristin Andreassen.
You seem to pay a lot of attention to the rhythm of your voice.
I think that has a lot to do with Crooked Still. We started out as a quartet, with only three instruments and vocals. You couldn't leave it up to the bass, cello or banjo, because everybody traded roles. I come from a traditional music school background, and I want every note I sing to be full of purpose. When you have to sing the same song every night, you can phone it in, but then it stops being fun for you and the people who show up. You have to access whatever it was that inspired you to write the song and get to that place every single night.
Read the full article now on the New York Times website.
Tags:
Aoife O'Donovan
,
fire engine
,
Fossils
,
USA Today