What started as an innocent social media game in which Facebook friends and fans listed artists they would like to cover Wesley Stace AKA John Wesley Harding's vast catalog of songs, became a reality with the creation of Community Coronation Covers Project, an ongoing community-curated playlist by a myriad of well-respected artists.
So far, the project has included contributions by Graham Parker, Josh Ritter, The Minus 5, Ryan Miller of Guster, and Rosanne Cash.
Culled from hundreds of suggested artist/song pairings, Stace compiled an alphabetical list "realizing that some of these wild ideas were tantalizingly within my grasp, I wondered whether the musicians in question might be willing to help out, to make someone's day."  
"These are "bespoke covers: requested by a single person, and hand delivered, as it were, to that person," says Stace. "The object of was first to blow the mind of whoever made the suggestion, and then to blow the minds of any fans of the performing artists whom they never thought they would hear sing this song or perhaps any other of my songs: handmade custom-built quarantainment."
"These performances are acts of great generosity and kindness by these performers – it's not necessarily an easy thing to work up a new song by request – and I'd like to thank everyone who humored me in this!"
Each individual song comes with a personal note written by Stace about that particular performer.
This fall will see the wide release of Stace's John Wesley Harding The Man with No Shadow, which Disney-owned Mammoth Records pulled the plug on just weeks before its release in 2002. Having only been sent to a few hundred journalists, and a handful of radio stations, no other physical copies existed. Over the years, advance CDs fetched untold amounts of money from eager fans in search of Wes' great "lost" album. The Man With No Shadow First Edition restores the album to Wes' original vision.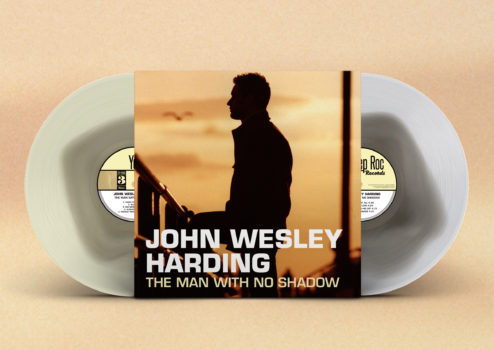 Remastered from the original tapes, the package includes cover art from the original sessions and extensive liner notes. The CD package includes the original album plus a bonus disc of unheard, previously unreleased band demos and studio outtakes.
Two songs from that album have found their way to The Community Coronation Covers Project: "Sussex Ghost Story" by Josh Ritter and "Negative Love" by Chris von Sneirdern.
Stream the version of "Negative Love" that will be on the final The Man With No Shadow release.
Tags:
John Wesley Harding
,
Wesley Stace