Yep Roc Records is excited to announce the signing of Maine-based singer-songwriter Louisa Stancioff! 
Born and raised in rural Maine, Louisa has emerged as a gifted writer with a cinematic eye for richly detailed, emotionally-charged character studies that grapple with the complexities of loneliness and desire, freedom and regret, guilt and forgiveness. A nomadic soul who spent stints living in Alaska, California, New York, and North Carolina before returning home, she grew up learning traditional Bulgarian music from her paternal grandfather's side of the family and reveled in singing American folk and roots tunes with her friends. She picked up piano and fiddle during her elementary and high school years, and in college, launched a band with her cousin Matt called Dyado (a play on "Diado," which means grandfather in Bulgarian). The pair crisscrossed the US on tour for nearly three years, camping and couch surfing their way around the country until 2020, when Stancioff struck out on her own.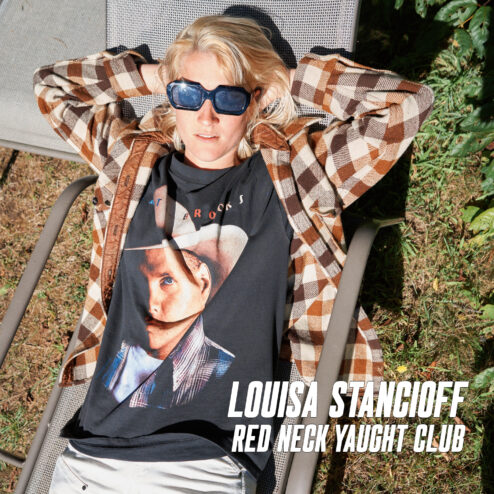 Today, Louisa has unveiled a new single "Red Neck Yaught Club," her first release under her own name, as well as her first single for Yep Roc Records.  The official video, filmed on her family's stomping grounds in rural Maine by Matt Gaillet, features a series of vignettes in the heat of summer and nostalgic reflection.
"Red Neck Yaught Club," is a "nostalgic flashback to my adolescence," says Louisa. "It's a metaphorical place you can go to get away from the burdens of society and live freely and openly with excitement and purpose." 
Sign up for Louisa Stancioff's mailing list HERE to stay in the loop on new music and touring!
Follow Louisa:
Louisa Stancioff: On Tour
July 15 – WYLDE – Hudson, NY 
July 16 – ASKEW – Providence, RI
July 22 – SKAL – Vinalhaven, ME
August 3 – Belfast Summer Nights – Belfast, ME
August 5 – One Longfellow – Portland, ME
August 24 – Rockland Library – Rockland, ME
August 30 – Radio Bean – Burlington, VT
September 20 – Diana Wortham Center – Asheville, NC*
September 21 – Aisle 5 – Atlanta, GA*
September 24 – Lemonade Park – Kansas City, MO*
September 27-28 – Fremont Abbey – Seattle, WA*
September 29 – The Old Church – Portland, OR*
October 3 – The Chapel – San Francisco, CA*
October 6 – Lodge Room – Los Angeles, CA*
Tags:
louisa stancioff
,
music video
,
New Artist
,
new music
,
New Signing
,
New Single
,
now playing
,
red neck yaught club