It's been an incredible year for Yep Roc, celebrating new releases from Mandolin Orange to The Minus 5 to Michaela Anne, and many others.
It's also that time of year when all the "Best of…" lists come out. Here are just a few highlights from what people are saying about this year's Yep Roc releases.
(What were YOUR favorite Yep Roc releases of 2019? Let us know on Facebook, Twitter, or Instagram!)
Michaela Anne's Desert Dove made it onto several "Best of" lists including Rolling Stone, Stereogum, Wide Open Country, and Albumism. The title track "Desert Dove" is also included on Spotify's Best Folk & Americana Songs of 2019 playlist.
The Nashville songwriter dismantled any notions of being a mere honky-tonk stylist on her fourth album Desert Dove, a textured portrayal of turmoil and restlessness set to a mix of West Coast-country, atmospheric indie-rock indebted reverb, and plaintive folk-pop.

Rolling Stone, "40 Best Country and Americana Albums of 2019"
Mandolin Orange's hugely successful Tides of a Teardrop landed on No Depression's Readers Poll for Favorite Roots Music Albums of 2019 and was named one of The Best Southern Albums by Garden & Gun Magazine. The single "The Wolves" made it into Spotify's Best Folk & Americana Songs of 2019 playlist.
On their third album, the Chapel Hill, North Carolina, duo of Andrew Marlin and Emily Frantz continues to lean into fuller instrumentation—without abandoning their bluegrass roots. "Golden Embers," the album's opener, is a study in restraint, ambling along with intimate harmonies before giving way to a lush, full-band sound. Fans of Mandolin Orange's 2016 breakout single "Wildfire" will be drawn to new song "The Wolves," a narrative about overcoming obstacles to find joy, set to glittering strings.

Garden & Gun Magazine, "The Best Southern Albums of 2019"
The Flesh Eaters, LA's unconventional "supergroup", reunited its classic 1981 lineup of Chris D, Dave Alvin, John Doe, Bill Bateman, Steve Berlin, and DJ Bonebrake for I Used to Be Pretty, their first new recording in more than 35 years. The album was named Best Punk album by MAGNET Magazine and one of California Rocker's Best Albums of 2019.
Yahoo Entertainment's Craig Rosen said it best in his #1 staff pick for Best Albums of 2019: "The Minus Five's Stroke Manor isn't just an album — it's a testament to survival and recovery. In November 2017, singer–songwriter Scott McCaughey suffered a life–threatening stroke; as he recovered and regained control of his faculties, he wrote the songs that make up Stroke Manor, which are alternatively rocking, haunting, and strangely uplifting."
Stroke Manor also landed at the #4 spot on MAGNET Magazine's Top 25 Albums of 2019.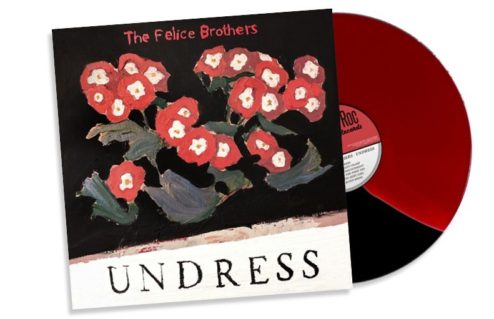 Americana UK honored The Felice Brothers' Undress with the #6 spot on its Top Ten Albums list. "Salvation Army Girl" off the album was included on Songs for Whoever's 100 Greatest Songs of the Year. Ian Felice talked about the inspiration behind the track:
The song 'Salvation Army Girl' belongs to a little known genre called soup kitchen songs. Like other songs populated by characters such as Bow-Legged Bill and Duckbill Betty, soup kitchen songs generally celebrate the simple pleasures of life like baked beans or Ovaltine. I was inspired to write the song after hearing Woody Guthrie's beautiful tale 'Union Maid' ( which is not a soup kitchen song but rather belongs to the extinct sister genre of Union Hall Songs) and partly by a song called 'Slum Goddess', written by The Fugs, those bards of the lower east side.

Ian Felice, in an interview with Songs for Whoever
Americana UK also named Jim Lauderdale's "Listen" (off this year's From Another World) its #4 track of the year.
Jack Klatt's was included on Songpickr's 75 Best Albums of 2019.
---
Here are more awesome "Best of" mentions we received this year! Thank you for supporting Yep Roc and our artists!
Chatham County Line
WNCW's Top 100 of 2019
Eli Paperboy Reed
Public Radio East's Top 100 CDs as heard on The Sound 2019
Eleni Mandell
Buzz Bands LA's Favorite 101 Songs of the Year ("Be Together")
Jim Lauderdale
WNCW's Top 100 of 2019
Jonah Tolchin
TIDAL's Best of Folk & Americana 2019 ("White Toyota Ranger")
Josh Rouse
God is in the TV – Andy Page's Tracks of the Year 2019 ("Trouble")
Michaela Anne
Your Life in a Song's Top 10 Country Albums Of 2019
No Depression Critics' 20 Favorite Roots Music Albums of 2019
Mandolin Orange
Bluegrass Situation's Top Moments of 2019
WNCW's Top 100 of 2019
Steep Canyon Rangers
WNCW'S Top Releases of The Year: Staff Picks
WNCW's Top 100 of 2019
The Felice Brothers
The Durango Herald's Records of the Year
The Flesh Eaters
The Santa Fe New Mexican/Terrell's Tune Ups: Top 10 Albums
The Rubinoos
Grade 'A' on Goldmine's "Power Pop gets high grades to close out 2019"
The Sadies
TIDAL's 2010's Folk & Americana ("It's Easy [Like Walking]")
Tags:
Eleni Mandell
,
Eli Paperboy Reed
,
Jack Klatt
,
Jim Lauderdale
,
Jonah Tolchin
,
Josh Rouse
,
Mandolin Orange
,
Michaela Anne
,
New Release
,
The Felice Brothers
,
The Flesh Eaters
,
The Minus 5
,
The Sadies