"Today I heard Jobi Riccio on [Lightning 100]… and she's GOOD. I'm impressed… Check that shit out." – 4x GRAMMY winner Jason Isbell
Nashville-based singer-songwriter Jobi Riccio has released her debut album Whiplash today via Yep Roc. The 11-song collection, written and recorded over the course of several formative and tumultuous years in Riccio's late teens and early twenties, effortlessly melds classic folk and country sounds with indie and atmospheric production. From the bittersweet album opener "Summer" to the jazz-infused album closer "One Last Time," each song is a revelatory, coming-of-age story about change, healing, growth, and self-love. Whiplash was co-produced by Gar Ragland, Jesse Timm, Isaiah Beard (of Baerd), and Riccio at Ragland's Citizen Studios in Asheville, North Carolina. 
"When I was writing these songs, I kept coming back to this image of someone slamming on the breaks in a car crash and this idea of emotional whiplash," Riccio explains. "That rush of stress and adrenaline felt similar to what I was experiencing as I emotionally processed my adolescence—almost as if I was being jerked around by one big life change after another." 
Listen to Jobi Riccio's first full-length album and debut release for Yep Roc Records: https://ffm.to/jobiricciowhiplash
Today, Riccio has unveiled the official music video for album centerpiece "Sweet," directed by Jasmine McGlade (producer of "La La Land") and featuring the Denver Roller Derby. 
"To me, roller derby and its athletes perfectly embody the spirit of my song, in all their DIY toughness and subversion of gender roles and constructs," Riccio explains about the "Sweet" music video. "Derby is a cool juxtaposition—people rollerskating which requires balance and skill—contrasted with them body checking each other which is just pure contact and almost primal I'd imagine. I often feel a juxtaposition of both tender and tough characteristics within me and was grappling with these when I wrote the song, so the video is a mirror to that in a way." 
Born and raised near the foothills of the Rocky Mountains, a stone's throw from Red Rocks Amphitheatre, Riccio grew up surrounded by roots music and fell in love with the genre at an early age. Over the past few months, the 25-year-old musician has garnered praise from NPR, The New York Times, The Nashville Scene, The Boot, No Depression, Holler, MOJO and more. Riccio made her Newport Folk Festival debut this summer, where she was honored with the John Prine Songwriter Fellowship Award. She'll return to AmericanaFest this month, before joining Molly Tuttle on tour for a handful of dates this Fall. 
For more information please visit https://www.jobiriccio.com/. 
Whiplash tracklisting
Summer

Driving

Sweet

For Me It's You

Lonely Tonight

Whiplash

Trying

Homesick

Relief

Kinder To Myself

One Last Time
Jobi Riccio Tour Dates
* = Americana Fest
# = Supporting Molly Tuttle
September 8 – eTown Hall – Boulder, CO
September 9 – Globe Hall – Denver, CO
September 15 – Judson & Moore – Chicago, IL
September 17 – Jaanaroo – Nashville, TN *
September 21 – Eastside Bowl – Nashville, TN * 
September 21 – Exit/In – Nashville, TN *
November 14 – Higher Ground – South Burlington, VT #
November 16 – Aura – Portland, ME #
November 17 – Berklee Performance Center – Boston, MA #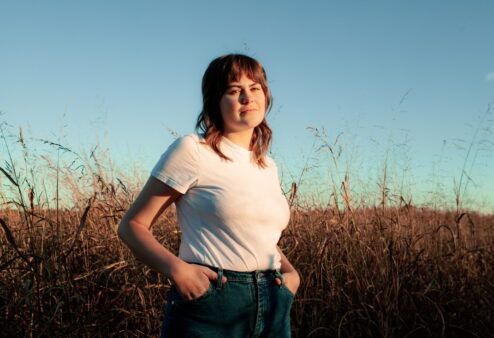 Recent praise for Jobi Riccio:
"Captivating vocals and cutting lyricism that sticks with you for the long haul." 
– The Boot
"Clever lyrics and raw candor as she navigates the complicated transition into adulthood with remarkable grace and honesty." 
– No Depression
"On 'Sweet,' Riccio dabbles with a 'Sweet Home Alabama' groove, but vocally inhabits an insouciance towards changing personality traits or personal preferences to please a lover — or anyone else, for that matter."
         – Billboard
"A little bit classic country, a little bit nineties Sheryl Crow kiss-off, and that's about as winning a combination as you can get. ["Sweet"] is the anthem for anyone who doesn't want to conform or change to make other people happy, find a love or make people comfortable in your presence. Wear what you want, be who you want, be with who you want. Yes, please." 
– Marissa Moss, Don't Rock The Inbox
"Riccio's full-length album is a  beauty… You can hear her Rocky Mountain past in the music, but the lyrics are modern and personal."
– MOJO
"Blending country twang with indie production and exceptional lyricism, Riccio is an obvious standout in the traditional Americana landscape."
– WNXP
"Jobi Riccio has stirred up the kind of buzz as a new artist that gets a year off to an exciting start." 
– WMOT
"'Everyone has a person they sing their love songs to,' Jobi Riccio sings in 'For Me It's You,' a slow, terse, old-fashioned country waltz complete with a plaintive fiddle. It just gets torchier as that love goes unrequited." 
– The New York Times
"The songs she's been drip feeding us so far in the run up to the album have been things of wonder… The latest single, 'Sweet', sounds like a lost Sheryl Crow cut from the early 90s or something off Caitlin Rose's first album, as she dips into all her anxieties and comes out on top."
– Holler
"Classic-country twang and touches of Rocky Mountain bluegrass using tender, almost transparent vocals."
 – Nashville Scene
"Jobi's carefully crafted lyrics turn songs into movies. Melodies blend with smooth vocals, and mournful fiddle solos lift between lines. It's the kind of music I catch myself playing for hours."
– The Bluegrass Situation
Tags:
americana
,
debut album
,
Folk
,
Jobi Riccio
,
new music
,
whiplash
,
Yep Roc